China's influence grows in US' 'backyard'
Updated: 2012-06-25 08:04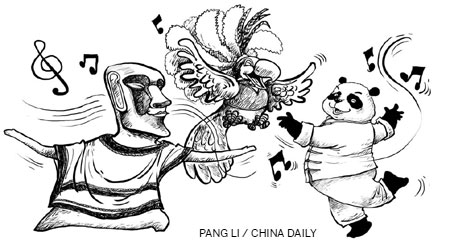 Not so long ago, Latin America was considered the "backyard" of the United States, but this is now changing. In the past decade China's trade, investment and economic cooperation with the region has increased, challenging the US' position in Latin America.
The US' importance as a market for Latin American goods was so big that there was a time it was said: "When the US economy sneezes, Latin American countries catch a cold." But as China has now become a larger export destination for some Latin American countries, the same can now be said of China. For example, its influence in the Peruvian economy is very big, to the point that Luis Miguel Castilla, Peru's finance minister, has said "the truth is I light a little candle every day and pray that China's growth doesn't fall".
China's emergence as an economic power and its needs for natural resources and food, which Latin American countries have in abundance, means China is now the biggest trade partner of Argentina, Brazil, Chile and Peru. And China has free trade agreements with Chile, Costa Rica and Peru that will enhance that relationship.
In the past decade trade between the US and Latin American countries increased twice but the trade between China and Latin American countries grew 17 times. Also investment from China is growing at a fast pace. In global terms, the US is still the biggest trade partner of the region but it is only a matter of time before China claims that role.
Latin American countries are interested in China not only because it buys their raw materials at higher prices, but also because they want to sell manufactured goods to the growing and affluent Chinese middle class, and because they find it easier to do business with China. For example, China lends money to them more easily than institutions such as the World Bank, and countries such as Venezuela and Argentina that cannot get loans from international banks get loans from China, which attaches few conditions to the loans. In fact, China, through entities like the Export-Import Bank of China and the China Development Bank, lent more money to Latin American countries in 2010 than the World Bank, Inter-American Development Bank and US government put together.
Another reason for the US losing its influence in Latin America is that its economy is not doing so well. While Latin American countries are growing, due in no small part to the demand from China, the US is facing the same problems Latin American countries suffered 20 years ago, namely a big government deficit and debt. The US demanded economic reforms in Latin American countries 20 years ago, and now it is the turn of Latin American countries to demand that the US do those reforms, mainly slashing government spending.
Also Latin American countries are not happy with the US because it still opposes Cuba's integration in the Organization of American States. Also the region does not agree with the US' approach to fighting the drug trade and resolving the immigration problem from the region to the US.
But the US' influence is still big in the region, not only because it is the biggest economic power in the world, but also because it still attracts the best talent from the region to study in its universities and because its culture, such as music and movies, is much in demand by people in the region.
China will need to build up its soft power, based on its appeal as one of the oldest civilizations in the world, its advanced culture, its artistic achievements, its magnificent and unique monuments like the Great Wall, which everyone should visit, its wonderful food, etc. Interestingly, China's appeal in Latin America is strong, as many people want to learn its language, and its standing is even superior to the US in the sense that in many opinion polls, China is considered more friendly to the region than the US and its people are seen as working and studying very hard. Latin American people are also very impressed by its strong economic performance.
China's influence in the region will increase and will not encounter US opposition as long as it does not try to exert political influence. But China will face challenges in the region as its economic presence increases, because it is one thing to have Chinese goods in the markets competing with regional companies, but it is another to have Chinese companies and Chinese people there. In this regard China could learn from the US' experience of having to deal with local people, learning their idiosyncrasies, so as to avoid misunderstandings.
As for the Latin American countries, it is beneficial to have good relationships with the No 1 and No 2 economic powers in the world. Latin America's quest for development needs both countries, in a balanced and pragmatic approach. Also, as China and Latin American countries are both developing economies, they can learn from each other's successes and failures.
The author is a professor of economics at San Marcos National University in Lima, Peru.
(China Daily 06/25/2012 page9)